Archive for the 'Car Safety' Category
American Car Center is dedicated to seeing its hard-working and loyal customers in safe and reliable vehicles. A quick and easy measure to ensure just this is a check of your vehicle's gas cap. Replacing a damaged or missing fuel cap greatly increases road safety and fuel economy.
Modern automotive fuel systems require a complete seal of the gas tank. The total seal prevents dangerous vapors from escaping into the atmosphere. An improperly functioning gas cap may even actuate the dashboard's Check Engine indicator. The threaded, slight turn-and-click cap design is meant to signal a proper seal.
A cracked or worn gas cap is a malfunctioning gas cap that requires replacing. A cracked cap or missing seal permits fuel evaporation, costing motorists money.
Purchasing a replacement gas cap is simple; visit your local automotive parts retailer with your vehicle's make and model year to receive the matching O.E.M. part.
Installing your new fuel cap is a snap, or rather, a click.
Visit American Car Center today for assistance or to find the perfect late-model and low-mileage vehicle for you. Our more than 45 amazing stores have an extensive selection of outstanding cars, trucks and SUVs, each with a limited warranty to 3 years or 30,000 miles and oil changes, too. We make it easy for the hard-working people of the Southeast to drive a high-quality vehicle no matter their credit history. The King of Credit wants to approve you today!
Monday, February 18th, 2019
With winter upon us, American Car Center is asking you to be our safety partner by doing your best to keep yourself safe on wintery roads this season. With some planning, you can remain collision free and enjoy the best of your destination. Previously, we summarized preparing your vehicle for snow and ice, now let's discuss essential driving guidelines for winter road safety.
Wear comfortable clothes as bulky clothing can restrict your movement, making it harder to check your blind spot. Heavy or wet boots may also hinder proper pedal control.
Check the weather forecast and road conditions often so you know what to expect before leaving for your destination.
Keep a full tank of gas to help to reduce moisture in the fuel system and to add extra weight.
Clear ice and snow from your vehicle, including the roof and lights. Flying ice and snow is dangerous for others on the road. Wait for foggy windows to clear before proceeding.
Slow down and drive according to the road conditions around you. Give yourself extra time to arrive safely.
Pay attention to the road surface; asphalt should appear grey-white in winter. If it looks black and shiny it could be covered in ice. Shaded areas, bridges, and overpasses freeze sooner than other sections of roadway.
Give extra space because stopping on icy roads requires greater distance on which other drivers may be unfamiliar or unpredictable.
Look out for pedestrians and cyclists whose own visibly may be lessened by the elements.
Keep well back of snowplows and never pass one in operation for sightlines and visibility around them is very poor.
Avoid cruise control on slippery roads as it reduces reaction time and vehicle control.
Steer gently and avoid quick acceleration and hard braking especially on curves in the road. Sudden moves may lessen your control. When driving uphill try to maintain a constant speed as momentum is helpful.
Should you skid, release your brakes and steer in the direction you want to go. Be careful not to steer too far as your vehicle could spin.
Getting about in winter requires patience and composure but following some simple road-tested principles should allow you to get the most out of the frosty time of year. Partner with American Car Center to travel safely this winter – don't delay, come right away to drive away from one of our convenient locations an outstanding winter-ready car or SUV with a 3-year/30,000-mile limited warranty, oil changes included. The King of Credit wants to approve you today!
Wednesday, July 11th, 2018
Newborn babies and infants need special protection while in a vehicle. In a collision, a properly installed and used rear-facing child car seat can save your baby's life. Vehicle safety, especially for our most precious cargo, is American Car Center's main priority. Choosing the right car seat for your child and using it for every ride is the best way to keep your child safe. The right car seat is one that is proper for your child's height and weight and can be correctly installed in your vehicle. Always follow the manufacturer's instructions and read your vehicle owner's manual for correct child car seat installation and use.
To install your rear-facing child car seat:
Install away from active airbags. For most vehicles the safest place is the back seat or the second or third row of a mini-van.
Install the base at the correct angle. The angle range will be written on the car seat itself or in its manual. Some infant car seat models feature a built-in level indicator.
Use your body weight to tighten and fasten the seatbelt or Universal Anchorage System (UAS) strap through the base. The child car seat should move no more than 1 inch in any direction where the seatbelt or Universal Anchorage System (UAS) strap is routed through the child car seat.
If needed, use a locking clip. This clip helps secure the child car seat into your vehicle, if your vehicle's seat belts do not lock. Consult your vehicle owner's manual to see if you need one. If so, install the locking clip on the seatbelt within one-half inch of the latch plate.
Use the harness slots to position the straps correctly. Your harness straps must pass through the correct slots. Check your child car seat manual for the correct height.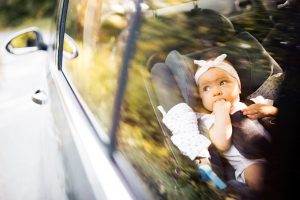 To use your rear-facing car seat:
Make sure the harness straps do not twist or fold. Harness straps need to be straightened out each time you secure your baby in the seat.
Adjust the chest clip on the harness. It should lie flat against your baby's chest at armpit level.
Secure the harness straps at or below your baby's shoulders. You should not be able to fit more than one finger underneath the harness straps at your baby's collarbone.
Make sure the carrier latches into the child car seat base every time.
Give it a tug to ensure it is still secure each time you place your child in the child car seat.
Remove bulky clothing from your baby, such as, thick sweaters or heavy jackets to ensure that the straps fit snugly.
It is best to keep your child in a rear-facing child car seat until they reach the manufacturer's recommended maximum weight and height limits, since the rear-facing position is the safest. When your child outgrows the maximum weight or height limits of an infant rear-facing car seat, they may move to a larger convertible infant/child car seat and stay rear-facing until the child is ready to face forward. Rear-facing car seats should never be placed in the front seat of a vehicle. Do not use a car seat past its expiration date or if it is involved in a collision.
Visit a conveniently located American Car Center today for your family's unique vehicle requirements. With an inventory of thousands of top-notch late-model, low mileage SUVs and cars backed by a three-year/36,000-mile limited warranty, you're sure to find the right one for you. American Car Center makes it simple and easy, no matter your credit history.